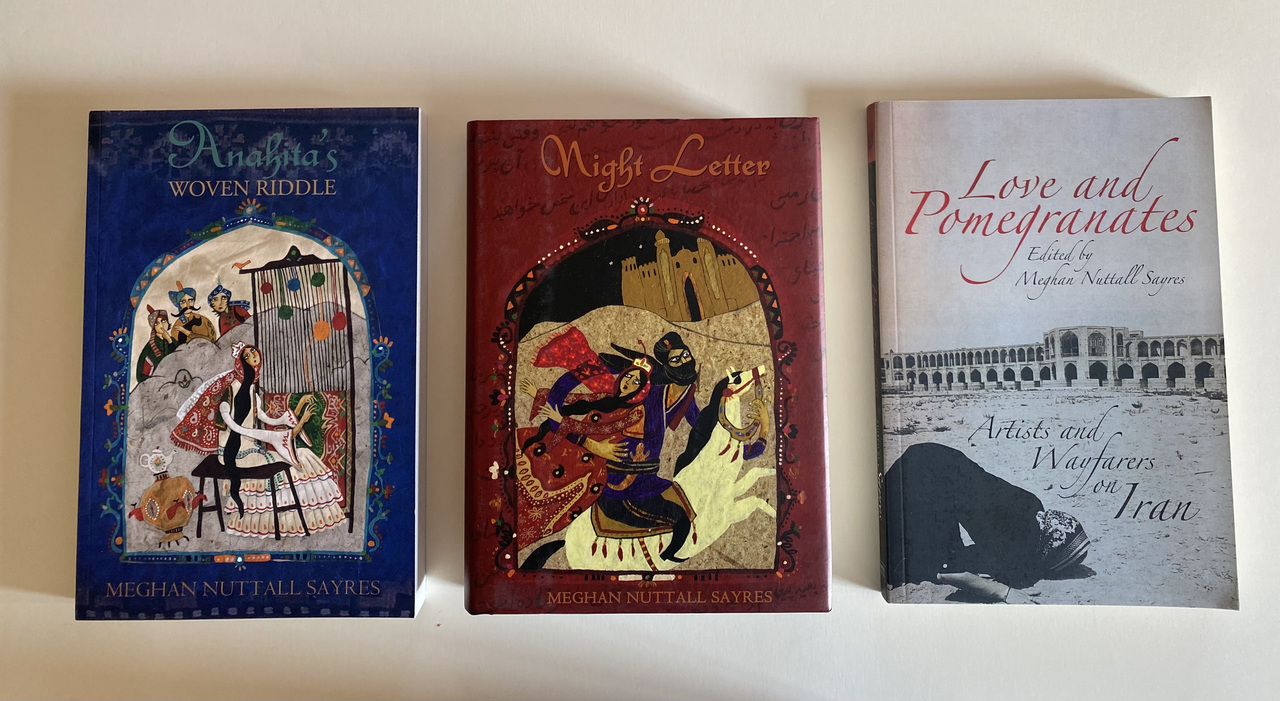 Anahita's Woven Riddle (Harry N. Abrams, 2006/Nortia Press, 2013/Wayfaring Press, 2020)

This novel set in Iran about a nomadic carpet weaver is an American Library Association Top Ten Best Books YA 2007, and an American Independent Bookseller Association Book Sense/Indie Next Pick 2007. Translations include: Turkish, Farsi, Hebrew, Spanish, Italian and an Indian edition. Rizzoli Books featured Anahita e l'enigma del tappeto at the Bologna Bookfair in 2008. This is a story infused with the poetry of Jalaluddin Rumi about a young woman who honors tradition while embracing modernity.

When Anahita, a nomadic weaver in nineteenth-century Iran, learns that her father wants her to wed the leader of her tribe—a man she finds repulsive—she designs her own fate by weaving a riddle into her wedding carpet, which suitors must guess to win her hand.

Anahita's Woven Riddle includes a discussion and study guide, Persian interior art, and brand new cover art by award-winning Tehran-based artist Rashin Kheirieh.

"A richly textured, carefully researched novel . . . excellent use of Sufi poetry and a strong cast of characters make this more than memorable. Romantic, delightful and educational too!"
—Kirkus Reviews

"An engrossing story that weaves in Persian culture, history, and surroundings, and portrays the life of a unique young woman and her quest for love."
—School Library Journal

"Anahita's Woven Riddle offers a glimpse into a world not many books enter. Sayres does an excellent job developing characters that intrigue and tug at the heart."
—Historical Novels Review

Night Letter (Norita Press, 2013/Wayfaring Press, 2020)

A companion novel to Anahita's Woven Riddle set in present-day Iran and Uzbekistan. A tale about human trafficking, Sufi mysticism, and a damsel in distress determined to save herself. Nominated for the American Library Association YA Best Fiction List 2014.

"Anahita's epic love story captures the mystique of long ago Persia while providing a framework for exploring issues of social justice still relevant in our own times."
— Nancy Menaldi-Scanlon, School Library Journal

"Shifts in narrative perspective from Anahita's first-person account to the third-person narration of events taking place on her behalf, keep readers engaged in this action packed adventure in a seldom-explored historical setting."
— Karen Coats Bulletin of the Center for Children's Books
Love and Pomegranates: Artists and Wayfarers on Iran (Nortia Press, 2013/Wayfaring Press 2020)

Love and Pomegranates is a series of testimonials from people who have journeyed into the heart of the "enemy" and found themselves identifying with the "other." More than a collection of essays, it is a maiden voyage on the path to greater understanding. This anthology includes essays, poems, interviews, and blogs by Americans, Iranians and Iranian-Americans, who have found friendships, mentors and muses in Iran. The theme celebrates the richness of Iranian culture.

"A true feast for the senses. Love and Pomegranates perfectly captures the beauty and splendor of Iran. This is a gorgeous book."
—Reza Aslan, bestselling author of No god but God, Tablet and the Pen, and Zealot: The Life and Times of Jesus of Nazareth

"This is a work to savor slowly, a rich assemblage of fine (Shiraz) wine and appetizers to be taken in any order and at any time."
—Ambassador John Limbert, former hostage in Iran, Distinguished Professor of International Affairs at the U.S. Naval Academy, and author of Negotiating with Iran: Wrestling the Ghosts of History

". . . a significant contribution to the literature on Iran. Love and Pomegranates written in an accessible yet authoritative style."
—Reese Erlich, Peabody award winner and author of The Iran Agenda

"Drawing on the arts, culture and education, this book accomplishes important intervention to counter the fear mongering and stereotypes of Iran that are prevalent today. Love and Pomegranates is a work of citizen cultural diplomacy."
—Carl Ernst, William R. Kenan, Jr. Distinguished Professor of Religious Studies, University of North Carolina, Chapel Hill